Welcoming Chili Piper to Base10
Three months ago, we looked at buying a virtual whiteboarding solution for our small team at Base10. We did our research: read G2 reviews, asked for advice from peers, and reviewed the sales material and product roadmap of a number of players. We narrowed our choices down to 3 options. It took us 3 weeks—3 weeks!—just to schedule demos with each of these products. The best experience? We filled out a demo request form and got added to a drip campaign 5 emails long encouraging us to email a rep to schedule a demo.  
When did buying software become so cumbersome and unfriendly? And why is it still so hard, generally, to buy software when you want to and have demonstrated interest in doing so?
Chili Piper helps companies add intelligence and automation to this process, turning an unfriendly experience into a delightful one. When you click on the "Get a Demo" button on a website with Chili Piper installed, you don't have to fill out a form. Chili Piper uses external and internal data (including data from your CRM, CDP, and marketing automation tools) to figure out who is requesting that demo. If you're a high value prospect (a Senior VP at a large tech company, for example), Chili Piper can figure that out and give them the option to talk to a rep immediately—speed is critical during any sales process. And if that Senior VP prospect chooses that option, Chili Piper will dial in, in real time, the rep responsible for that account (or someone else capable of handling that type of account if the named account rep isn't available). For everyone else, Chili Piper gives the prospect the ability to schedule a demo directly just by clicking on a few options that are available. No more back and forth, no forms to fill out, etc. Just click the date/time you're available and you'll get an invite for the demo directly in your calendar.
Companies that leverage Chili Piper's instant inbound experience see conversion on their inbound channels increase by 60-100%. If you get 100 leads a month, Chili Piper's ROI is a no brainer. That's why high-performing sales teams from some of the fast-growing companies are using Chili Piper to improve their inbound channel performance, including Square, Sendoso, Tray.io, Intuit, ChowNow, and Monday.com.
Nicolas and Alina, Chili Piper's founders, have been focused on applying automation to inbound sales for years. And they have a big vision to incorporate data and collaboration in a variety of other sales processes, including automating the scheduling of internal meetings, as well as enabling reps to collaborate with their colleagues on complex deals—all embedded into the tools (like email, or calendar) that reps already use. Not another software tool for reps that are overloaded managing a complex sales stack already. 
In the public markets, we've seen investors come to appreciate the importance of platform companies that drive exceptional sales performance. Sales and marketing SaaS companies have some of the highest revenue run-rate multiples and have become even more expensive throughout 2020:

More broadly, we believe that better management of companies' inbound sales will become a requirement over the next decade. We had a front row seat into this evolution on the outbound sales process as previous investors in companies like Showpad and Salesloft. Showpad, Seismic, and Highspot re-invented the field sales rep workflow, and Salesloft and Outreach re-invented the BDR workflow. But in a world where COVID-19 grounds field sales teams, where reps are more distributed and diffuse than ever before, and where your digital demand generation tactics are an increasing share (and importance) of your pipeline, we see the best companies succeeding by thoughtfully optimizing the inbound channel. In fact, when you look at the 10 fastest growing public SaaS companies, 6 of them rely on a primarily inbound go-to-market (many thanks to our friends at Public Comps for this great dashboard!):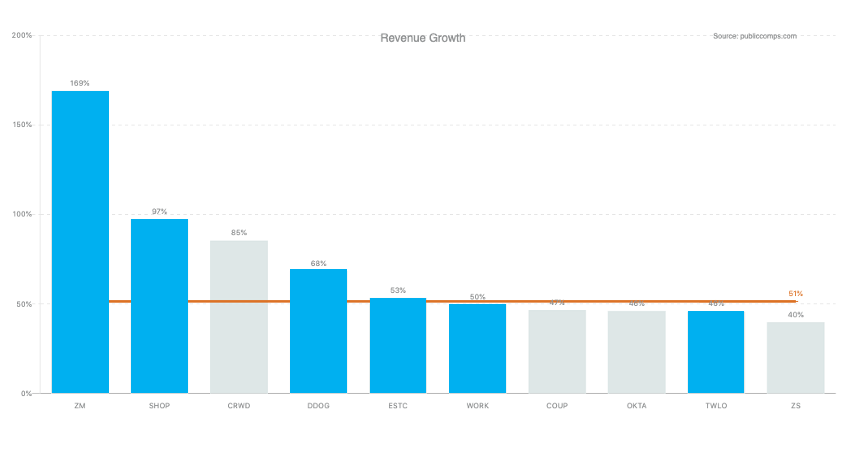 Note: Blue bars indicate that the company uses a primarily inbound go-to-market strategy.
We believe Chili Piper's inbound automation tools will have even more resonance with the new group of high growth and emerging product-led growth companies. The inbound channel should become a dedicated segment within the sales stack that needs its own workflow tool. And in our experience, every time a meaningful new segment of sales process has emerged that needs automation, a billion dollar SaaS company is born to solve that problem: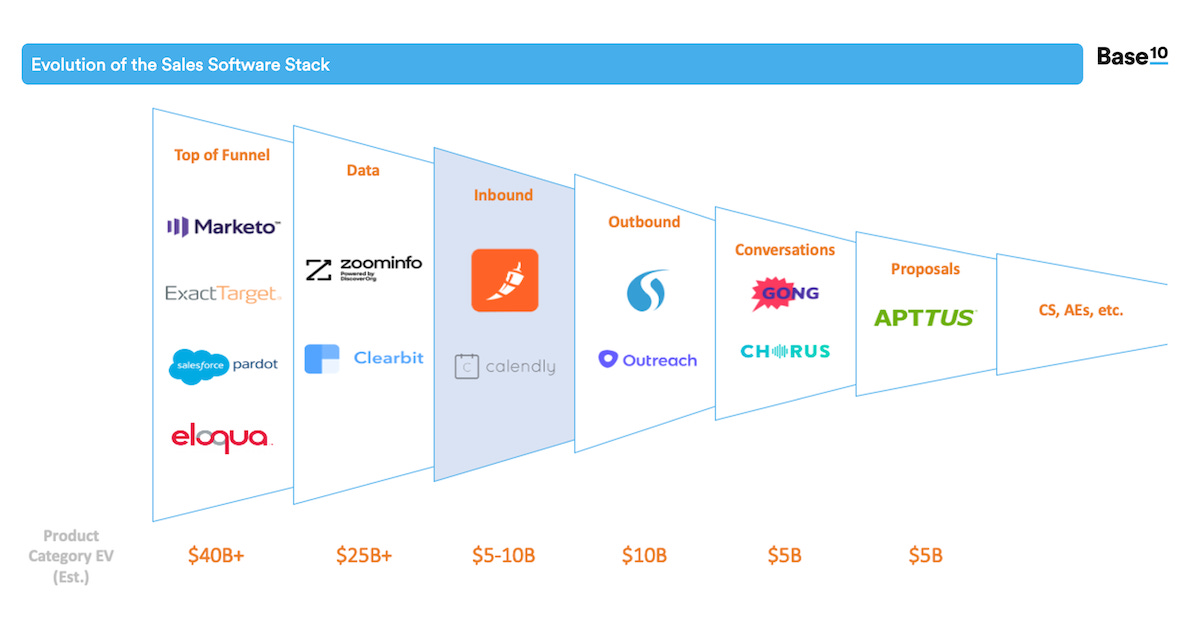 Note: Sales process categories are defined in Orange Text at the top of each section. Company logos represent relevant scale software players in each segment.
We're excited to be leading an $18M round into Chili Piper alongside our friends at Gradient and Chili Piper's existing investor, Flashpoint. And we're particularly excited to add another investment in our tradition of backing high quality sales software teams early in their journey. Be on the lookout for exciting product news from Chili Piper soon! 
Welcome Nicolas, Alina, and the entire Chili Piper team to the Base10 family.
---
Base10 is a San Francisco-based early-stage venture firm investing in Automation for the Real Economy. Founded by Adeyemi Ajao and TJ Nahigian, the firm invests in technology companies that are bringing automation to sectors of the Real Economy, including industrial logistics, consumer logistics, restaurants, financial services, and sales & customer service. Portfolio companies include ThePillClub, Virtual Kitchen Company, Acquire, PopMenu, and others.
Subscribe to Base10: Automation for the Real Economy and get full access to our research into various trends that are automating Real Economy industries, as well as companies that are building solutions to real world problems affecting the 99%.